Mooning Over SH Diana
When you walk onto Swan Hellenic's newest ship, SH Diana, you are immediately greeted with a sense of elegance and sophistication. That's not what you might expect from an expedition ship, but the newest member of Swan Hellenic's fleet captures the essence of high-class exploration. As soon as you step aboard, you're enveloped by an atmosphere of refinement. 
ELEGANCE IN ADVENTURE
Inside Diana, the interior design is clean, open, and as comfortable as the infamous RH Cloud sofa. Uncluttered, modern lines and bright, invigorating colors create an ambiance that is both welcoming and rejuvenating. What's most surprising is the sense of space aboard the vessel. Unlike megaships that cater to thousands, Diana is built to accommodate a modest 196 guests. Ingeniously designed open areas, particularly in the main dining room and lecture theater, give an illusion of expansiveness. It's not unlike the feeling of a private yacht which you happen to be sharing with a few friends. 
Even the corridors leading to the staterooms are generously proportioned, allowing two people to stroll side by side without the awkward shuffle so often encountered on other ships. This attention to space is also evident inside the staterooms themselves. Wood elements and textured fabrics infuse warmth, while the clever utilization of every nook and cranny ensures that you never feel constrained. Every inch of space has been maximized for comfort and ease of movement.
Our balcony stateroom, for instance, boasted a wide outdoor space with ample seating, a cozy sitting area inside furnished with a sofa and flat-screen television, and two luxuriously comfortable beds with premium linens. The bathroom was like a sanctuary, practically an in-room spa, with seductive lighting, an expansive shower, and premium bath products. It's enough to make anyone wish their bathroom at home was this nice … a rare feeling on a ship!
Beyond the lavish accommodations, Diana offers plenty of amenities tailored to the expedition experience. From a mud room primed for boots, parkas, and dive gear to the Basecamp, a concierge-managed full-service changing room that enables the seamless loading and unloading of passengers, every detail has been meticulously thought through.
The expedition team and guest speakers help make sense of the day's adventures in the onboard lecture theater — a feature that sets Diana apart from sister ships SH Minerva and SH Vega. With a mega screen and sound system, it provides the onboard experts the perfect facility for sharing their expertise in the landscape, wildlife, history, and culture of every destination.  
For those seeking relaxation, the ship's world-class spa is manned by skilled technicians and stocked with the antioxidant-rich, all-natural products of Lajatica Bocelli 1831. Saunas, a fitness center, and even an outdoor heated swimming pool help you unwind after a day adventuring out in the world. And adventure is the heart of Diana's promise, as each port of call promises encounters with the extraordinary.
EXPLORING THE WORLD
Diana is a PC-6 ice-breaker, capable of voyaging among the icebergs of the Arctic and Antarctic. But part of this ship's yearly travels will be spent sailing the coasts of Western Europe and the Med. Some ports are familiar, but others are rarely seen by most cruise passengers. 
On a recent summer voyage, Diana departed from Tromsø, Norway, above the Arctic Circle, on a voyage that ended in the familiar port of Amsterdam. But in between, guests got to explore sites like the Norwegian fishing port of Svolvær,  Svartisen glacier, history-laden Froya Island (home of Northern Europe's tallest lighthouse), the village of Skjolden with its ancient Urnes Stave Church, the waterfalls of Hardangerfjord, and the tiny German island town of Helgoland, among others. 
This kind of "cultural expedition" has been part of Swan Hellenic's DNA since the line's was founded in the 1950s, when family-operated Swans Travel Bureau joined forces with the London University Society for the Promotion of Hellenic Studies, which wanted to offer members a tour of Greece with guest lecturers. The combination of intriguing itineraries, eminent lecturers, and expert expedition guides proved fascinating, and laid the foundation for the line's business model today. 
Swan Hellenic brings all-inclusive luxury travel to extraordinary destinations together with geographical exploration and scientific discovery, involving renowned experts who, in addition to presentations, are on hand for informal discussion. 
One of the line's latest partnerships is the SETI Explore Space at Sea Series brings a different world-renowned scientist from the SETI Institute aboard each cruise to discuss the latest discoveries in astronomy, astrophysics, astrobiology and planetary science. 
DINING AND DISCOVERY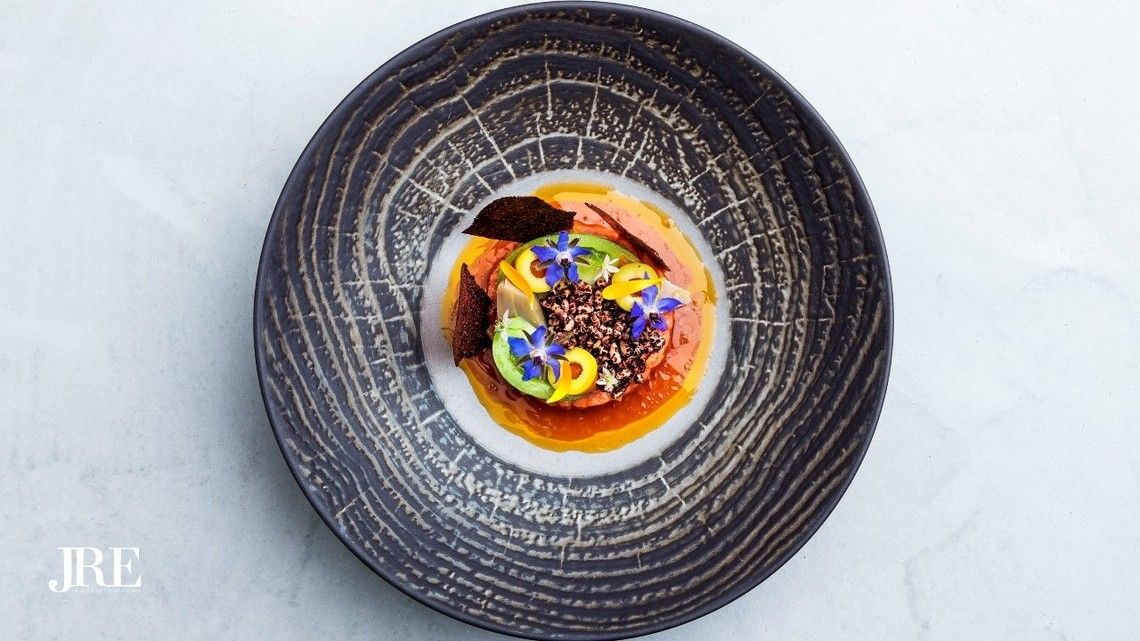 Yet it's the culinary journey that can leave the most lasting impression. I always like to save the best for last, and for me that always has to do with food. The commitment to impeccable dining is unwavering, whether you opt for the main dining room, the tapas room, or just stay in for the evening with room service. 
As well as the astronomical partnership with the SETI Institute, Swan Hellenic has also teamed up with JRE-Jeunes Restaurateurs to create the Maris Culinary Discovery at Sea. This series of exclusive cruises each has a different JRE gourmet chef aboard who guides guests on a voyage of gastronomic discovery in parallel with the scientific lectures. Shore excursions allow guests to explore local hunting and fishing, farming, foraging, and culinary traditions in the company of a renowned chef. In the kitchen, those chefs guide the preparation of a different surprising signature dish every night, building up to an extraordinary Gala Dinner to showcase their creative skills. 
Diana could be more than a ship; it could also be a floating universe of exploration, luxury, and enrichment. Swan Hellenic's commitment to offering exceptional experiences is evident in every part of the ship, from its inspired design to its knowledgeable crew. If you're seeking an expedition that combines adventure, comfort, and intellectual stimulation, look no further.
By Bill Jordan
This is an excerpt from the latest issue of Porthole Cruise and Travel Magazine. To continue reading, click above for a digital or print subscription.